Stainless steel *tarnish free*

Suspended on a link chain
Choose your starsign!
Available in Gold / Silver 

40+5cm chain length extender

Allow 7-15 business days for delivery.
Our bestselling unique, zodiac pendant necklaces are now available in stainless steel.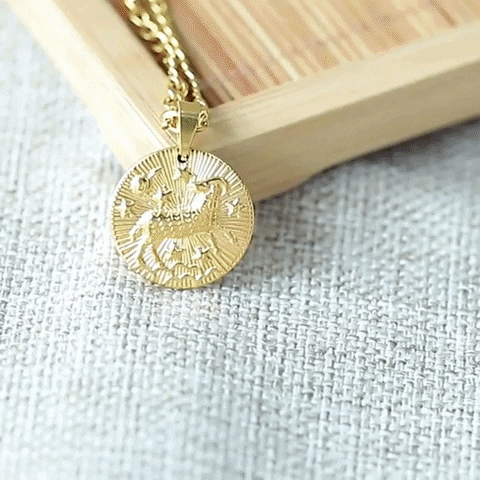 Check your astrological sign below and the traits associated with it, does it sound familar?
| | | |
| --- | --- | --- |
| Aries | March 21 -April 19 | Wild, Spirited, Brave  |
| Taurus | April 20 - May 20 | Love, Loyalty, Energy  |
| Gemini | May 21 - June 21 | Bold, Sassy, Smart |
| Cancer | June 22 - July 22 | Imaginative, Charming, Enigmatic |
| Leo | July 23 - August 22 | Optimistic, Passionate, Loving |
| Virgo  | August 23 - September 22 | Wise, Loving, Gentle |
| Libra | September 23 - October 23 | Fun, Charming, Creative |
| Scorpio | October 24 - November 22 | Passionate, Powerful, Fearless  |
| Sagittarius | November 23 - December 21 | Wild, Generous, Kind  |
| Capricorn | December 22 - January 19 | Honour, Ambition, Spirit |
| Aquarius | January 20 - February 18 | Free-spirit, Honest, Original |
| Pisces | February 19 - March 20 | Dreamy, Romantic, Kind |