Due to high demand of our Arc Aquarius Zodiac Necklace - it is currently sold out.
New stock is estimated March 1st. Order NOW to SECURE yours, once we restock.
Aquarius : (January 20th - February 18th)
She is inventive and curious, adaptable & intellectual. 
Whether you're reaching the masses with your message or fighting for the underdog, you need a little zodiac action in your life.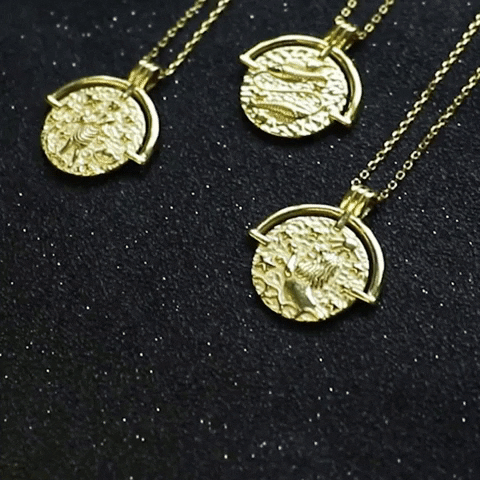 Jewellery That Feels Personal To Anyone
Embrace your star sign with our unique zodiac necklace. This gold Aquarius Star Sign necklace has a detailed 3D design which relates to the astrological constellation of Aquarius. An Aquarius is a unique individual known for being imaginative, idealistic and intuitive. Celebrate your inner Aquarius with our intricate constellation necklace. 
The delicate Aquarius necklace makes a unique and meaningful gift for a loved one. 
An  Aquarius 's Perfect Gift

A star sign necklace is a very personal gift, as the sign of the zodiac is unique for the recipient and tells something about her personality.
For those who like to create a personal connection with the jewellery they wear or gift to friends.  This dainty keepsake will make a thoughtful magical gift.


WHY BUY FROM US?
 ‣ Unique Designs
Our Zodiac necklaces are unique, secretive and personal to you. Our designs are handcrafted in the U.K and cannot be found in stores. 
‣ High Quality Materials, Superior Products
This necklace is handcrafted from premium solid Sterling Silver with a thick layer of 18k Gold Plating.  
‣  50% Less Cost Than Our Competitors Because We Don't Mark Up
We don't believe in overpriced jewellery, with crazy mark-up's and neither should you.
‣ Trust
We understand purchasing online can be worrying. We have customer service you can contact anytime. Your payment is fully safe and secure with VISA / Paypal / Klarna.
‣ 2 Year Warranty Included On This Product
= Happiness guarantee.
‣ Shipped using Royal Mail from the UK.

Fast, secure and fully tracked on its journey to you.
‣ Female Ran UK Small Business.
Because we are a small business, we truly appreciate your purchase. We take pride in adding extra thoughtful touches to our packaging to bring a smile upon opening.
CHAIN SIZING GUIDE