Our limited time offer  🥂 £10 Zodiac Necklaces  - be quick, some signs have already completely sold out. 
Ships next day once order is placed. 
Brass with gold plated.
Coloured Gemstones.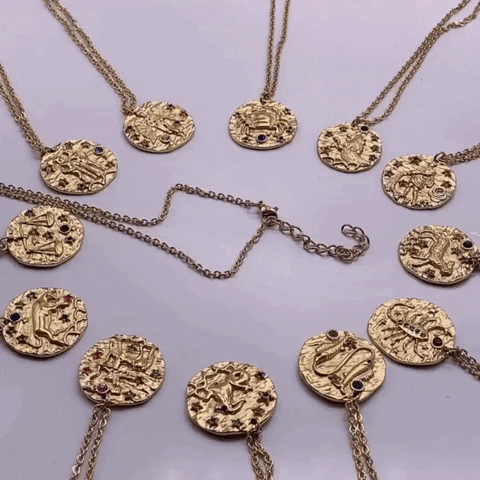 Find your Zodiac (and the personality traits associated with it) in the list below. Do you recognise them in yourself?
Aquarius – Free-spirit, Honest, Original (Jan 20th - Feb 18th)
Pisces – Dreamy, Romantic, Kind (February 19th - March 20th)
Aries – Wild, Spirited, Brave (March 21st – April 19th)
Taurus – Love, Loyalty, Energy (April 20th – May 20th)
Gemini – Bold, Sassy, Smart (May 21st – June 20th)
Cancer – Imaginative, Charming, Enigmatic (June 21st – July 22nd)
Leo – Optimistic, Passionate, Loving (July 23rd – August 22nd)
Virgo – Wise, Loving, Gentle (August 23rd – September 22nd)
Libra – Fun, Charming, Creative (September 23rd – October 22nd)
Scorpio – Passionate, Powerful, Fearless (October 23rd – November 21st)
Sagittarius – Wild, Generous, Kind (22nd November – 21st December)
Capricorn – Honour, Ambition, Spirit, (22nd December – 19th Jan)