Cancer Zodiac Necklace (18k Gold Vermeil)
Sale price Price £40.00 Regular price £55.00 Unit price / per
LOVING, PROTECTIVE, SENSITIVE, & ALSO HIGHLY INTUITIVE.
For our nurturing and sensitive Cancer, our zodiac necklace depicts a crab surrounded by an ocean of stars. Born June 21st - July 23rd, this is your new favourite. You're a spiritual lighthouse weaving between the sea and the shore, and the world needs to know! What better way to tell them than with this? 
    YOUR THEME SONG
   Summertime Sadness - Lana Del Ray (Fellow Cancerian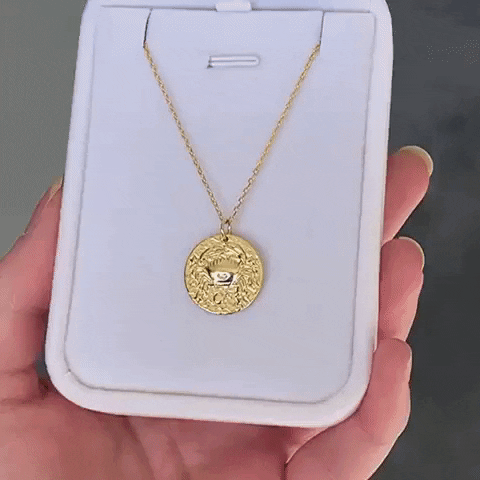 The most beautifully detailed pieces you'll EVER discover. Guaranteed.
 ✔️ Artisan One-of-a-kind Zodiac Necklace 
 ✔️  Handcrafted Exclusively Made To Order For You In The UK
 ✔️  Crafted from 925 Premium Sterling Silver with 18k Gold Plating
 ✔️  Durable Dainty Chain Available In 18" / 22"
Includes Cancer double sided pendant charm and link chain necklace. Crafted from 925 Sterling Silver with 18k Gold Plating.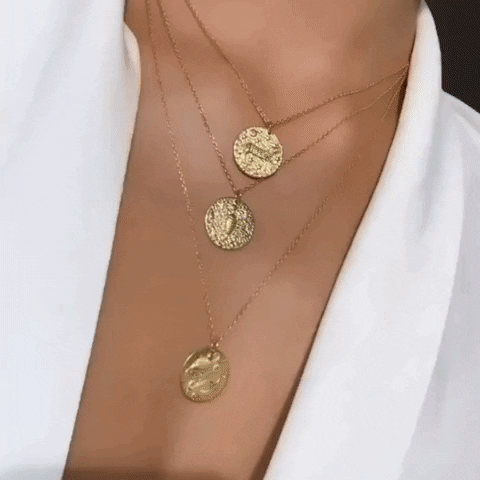 You're the in-house family therapist

You have a questionable obsession with chillin' in the bath
Always hoping for your own rom-com "meet cute"
Cancer is ruled by the moon, the celestial body that represents comfort, self-care and maternal energies. Accordingly, Cancers tend to be domestically oriented. They love to create cozy, safe spaces that serve as their personal sanctuaries, then spend lots of time in them.  
Dispatch guidelines
For all orders including Zodiac Necklaces 18K Gold Vermeil, we give a 5-15 business day (7-17 days total as a guide) dispatch timeframe as all Zodiac orders are hand made to order specially upon purchase. Please note that the 'dispatch by' aim is a guide only and items can be shipped before or after this date, as they are lovingly hand-made to order within the UK. 
SIZING GUIDE