Aries Zodiac Necklace (18k Gold Vermeil)
Sale price Price £40.00 Regular price £55.00 Unit price / per
 DYNAMIC, COMPETITIVE & ENERGETIC, WITH A GREAT NATURAL INSTINCT.
For our passionate and loving Aries, our zodiac necklace depicts the strong and confident ram framed by a ocean of stars, featuring your rulers symbol Mars. Born March 21st - April 19th, this is your new favourite. Remember, your passion and drive are what makes you an absolute powerhouse. 
Whether you're pumping iron or launching a startup, you need a little zodiac action in your life. How else will everyone know you're number one? 
      YOUR THEME SONG      
     Savage by Meg The Stallion ft. Beyonce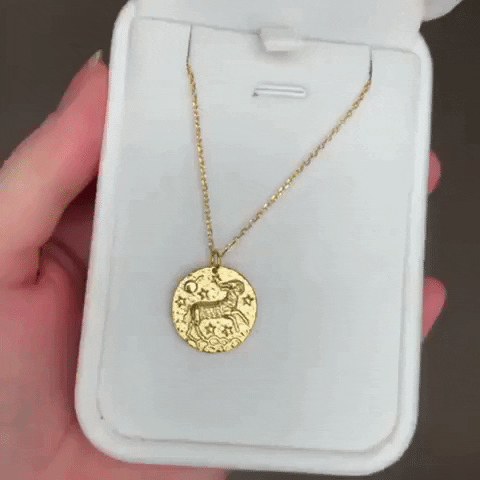 The most beautifully detailed pieces you'll EVER discover. Guaranteed.
 ✔️ Artisan One-of-a-kind Zodiac Necklace 
 ✔️  Handcrafted Exclusively Made To Order For You In The UK
 ✔️  Crafted from 925 Premium Sterling Silver with 18k Gold Plating
 ✔️  Durable Dainty Chain Available In 18" / 22"
Includes Aries double sided pendant charm and link chain necklace. Crafted from 925 Sterling Silver with 18k Gold Plating.
DIMENSIONS
Made with a sterling silver base and plated in 18k gold vermeil. Vermeil is an historical French plating method which uses a palladium barrier layer and heavy 18k gold plating.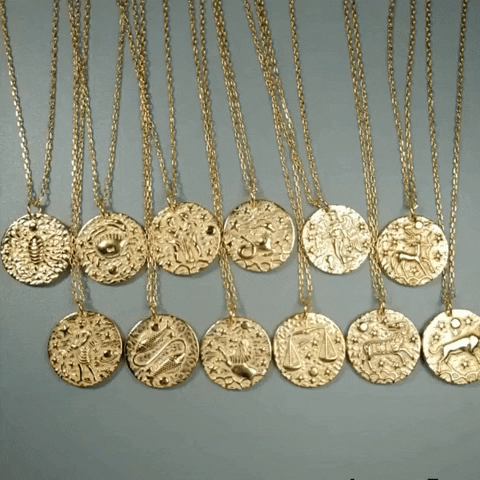 Aries have a very warm and passionate nature. Their Mars ruler makes them competitive and full-on too. They have a big presence, they can light up a room. And, mostly, they're lovely to be around because they genuinely care about other people. Just don't get into a competition with them, because we all know how that will end up.
Monopoly, playing cards or even a harmless pub quiz becomes a battle to the DEATH. 
You look tres chic in your yoga outfit.

Queen of your Castle, thank you very much. Home DIY is, also, like a competition with tools.
Why Purchase With Us?
 ‣ Unique Designs
Our Zodiac necklaces are unique, secretive and personal to you. Our designs are handcrafted in the U.K and cannot be found in stores. 
 ‣ High Quality Materials, Superior Products
This necklace is handcrafted from premium solid Sterling Silver with a thick layer of 18k Gold Plating.  
‣  50% Less Cost Than Our Competitors Because We Don't Mark Up
We don't believe in overpriced jewellery, with crazy mark-up's and neither should you.
‣ Trust
We understand purchasing online can be worrying. We have customer service you can contact anytime. Your payment is fully safe and secure with VISA / Paypal / Klarna.
‣ 2 Year Warranty Included On This Product
= Happiness guarantee.
 ‣ Shipped using Royal Mail from the UK.
Fast, secure and fully tracked on its journey to you.
‣ Female Ran UK Small Business.
Because we are a small business, we truly appreciate your purchase. We take pride in adding extra thoughtful touches to our packaging to bring a smile upon opening.
 SIZING GUIDE