Classic Zodiac Necklace - SALE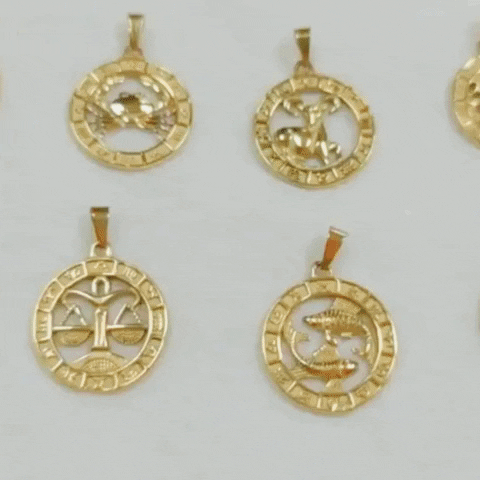 A Loved One's Perfect Gift
 A star sign necklace is a very personal gift, as the sign of the zodiac is unique for the recipient and tells something about her personality.

Stainless Steel Pendant Necklace

18" Gold Plated Chain 

Shipped Next Day
WHY BUY FROM US?
✔️  Unique One Of A Kind Artisan Designs
Our Zodiac necklaces are unique, secretive and personal to you. Our designs are handcrafted in the U.K and cannot be found in stores. 
✔️   Expensive Looking Yet - 50% Less Cost Than Our Competitors Because We Don't Mark Up
We don't believe in overpriced jewellery, with crazy mark-up's and neither should you.
✔️  Trust
We understand purchasing online can be worrying. We have customer service you can contact anytime. Your payment is fully safe and secure with VISA / Paypal / Klarna.
✔️   Shipped using Royal Mail from the UK.
Fast, secure and fully tracked on its journey to you.
✔️  Female Ran UK Small Business.
Because we are a small business, we truly appreciate your purchase. We take pride in adding extra thoughtful touches to our packaging to bring a smile upon opening.
 SIZING GUIDE 
Check your astrological sign below and the traits associated with it, does it sound familar?
| | | |
| --- | --- | --- |
| Aries | March 21 -April 19 | Wild, Spirited, Brave  |
| Taurus | April 20 - May 20 | Love, Loyalty, Energy  |
| Gemini | May 21 - June 21 | Bold, Sassy, Smart |
| Cancer | June 22 - July 22 | Imaginative, Charming, Enigmatic |
| Leo | July 23 - August 22 | Optimistic, Passionate, Loving |
| Virgo  | August 23 - September 22 | Wise, Loving, Gentle |
| Libra | September 23 - October 23 | Fun, Charming, Creative |
| Scorpio | October 24 - November 22 | Passionate, Powerful, Fearless  |
| Sagittarius | November 23 - December 21 | Wild, Generous, Kind  |
| Capricorn | December 22 - January 19 | Honour, Ambition, Spirit |
| Aquarius | January 20 - February 18 | Free-spirit, Honest, Original |
| Pisces | February 19 - March 20 | Dreamy, Romantic, Kind |