Leo Zodiac Necklace (18k Gold Vermeil)
Sale price Price £40.00 Regular price £55.00 Unit price / per
SELF-ASSURED, FIERY & GENEROUS, WITH A FIERCE DRIVE.
For our confident and bold Leo, our zodiac necklace depicts a majestic and proud lion standing tall under the sun, surrounded by a sea of stars. Never forget that your strength is your warmth, compassion and fierce spirit, it shines as brightly as the sun.
Roll out the red carpet, the Leos are here. Nothing says "celebrating me" like a personal Zodiac pendant. Born July 23rd - August 22nd, this is your new favourite.
        YOUR THEME SONG
        Good as Hell by Lizzo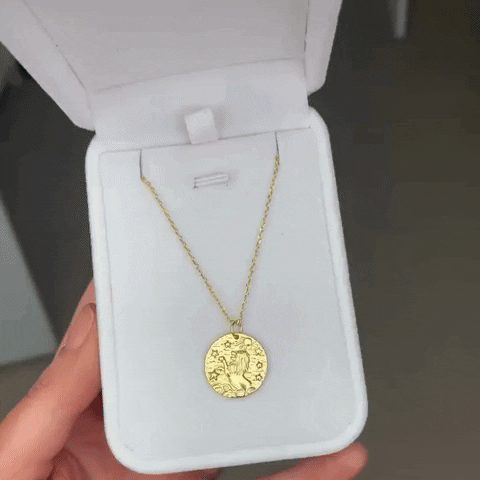 The most beautifully detailed pieces you'll EVER discover. Guaranteed.
 ✔️ Artisan One-of-a-kind Zodiac Necklace 
 ✔️  Handcrafted Exclusively Made To Order For You In The UK
 ✔️  Crafted from 925 Premium Sterling Silver with 18k Gold Plating
 ✔️  Durable Dainty Chain Available In 18" - 45cm
Includes Leo pendant charm and link chain necklace. Crafted from 925 Sterling Silver with 18k Gold Plating.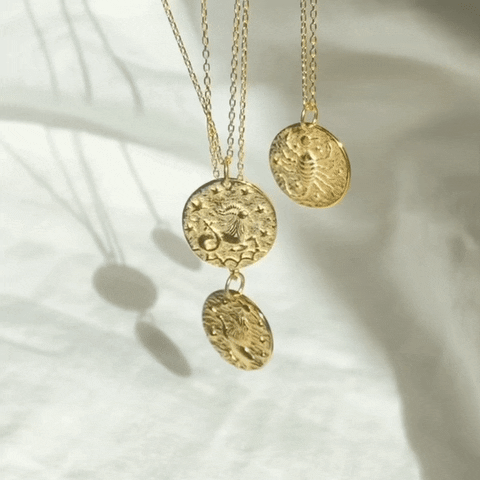 Your pet may or may not have their own Instagram page.

You have become semi-profesh hairdressers, as a result of tending to their locks religiously. 

Your flair for dramatics only adds to your charm
Leo's are born between July 23-August 22 and are ruled by the Sun, and this perfectly represents their innate belief that they are the centre-of-the-universe!
They are charming, warm, welcoming, funny, protective, and generally great company .Leos love to lead, perform, talk, be admired and receive the praise and respect of others. They are naturally regal, and always assume a boss-like stance in any relationship or group dynamic. 


Dispatch guidelines
For all orders including Zodiac Necklaces 18K Gold Vermeil, we give a 5-15 business day (7-17 days total as a guide) dispatch timeframe as all orders are hand made to order specially upon purchase. Please note that the 'dispatch by' aim is a guide only and items can be shipped before or after this date, as they are lovingly hand-made to order within the UK. 
 CHAIN SIZING GUIDE