Taurus Zodiac Necklace (18k Gold Vermeil)
Sale price Price £40.00 Regular price £55.00 Unit price / per
CREATIVE, DEPENDABLE & SENSUAL, WHOM MAKE PURPOSEFUL DECISIONS.
For our strong and independent Taurus, our zodiac necklace depicts the stable bull bowed below the ruler Venus symbol, surrounded by shining stars. 
Produced in three dimensions using unique craftsmanship, with a hammered design. Born between
April 20th - May 20th. 
As a Taurus, we know you're making moves on the low and love a "treat yourself" moment. So here it is.
           YOUR THEME SONG
           Needed Me by Rihanna
The most beautifully detailed pieces you'll EVER discover. Guaranteed.
 ✔️ Artisan One-of-a-kind Zodiac Necklace 
 ✔️  Handcrafted Exclusively Made To Order For You In The UK
 ✔️  Crafted from 925 Premium Sterling Silver with 18k Gold Plating
 ✔️  Durable Dainty Chain Available In 18" / 22"
Includes Taurus double sided pendant charm and link chain necklace. Crafted from 925 Sterling Silver with 18k Gold Plating.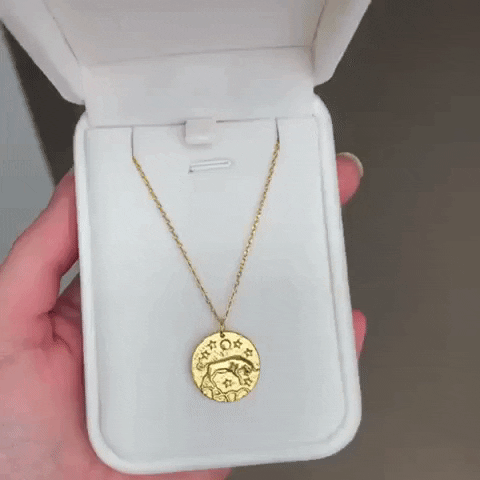 Self-care is your coping method. You are enchanted by comfort and luxury.

Spirited, sincere and deliberate, there is elegance in your ferocity. 

You'd do the New York Times Sunday crossword puzzle in pen
Taurus is ruled by the planet Venus. ... As would be expected of a love and beauty goddess, Venus rules over all your romantic and sensual ventures. Taurus's Venusian influence make this earth sign the most sensual of the zodiac: These cosmic oxen are enchanted by any physical manifestation of comfort and luxury. Pleasure is a necessity for epicurean Taureans and they feel most content when pampered. (Taurus governs the neck, so neck caresses are especially irresistible to these bulls.
It's true that in their perfect world, Taureans would spend all day bathing in a tub overflowing with essential oils. At the same time, these earth signs know the value of a dollar. Taureans aren't afraid to roll up their sleeves and work hard to earn big rewards. They're ambitious, focused, and resilient and they feel most secure when steadily putting money into a savings account.
Why Purchase With Us?
✔️ 
Unique One Of A Kind Artisan Designs
Our Zodiac necklaces are unique, secretive and personal to you. Our designs are handcrafted in the U.K and cannot be found in stores. 
✔️ High Quality Materials, Superior Products
This necklace is handcrafted from premium solid Sterling Silver with a thick layer of 18k Gold Plating.  
✔️  Expensive Looking Yet - 50% Less Cost Than Our Competitors Because We Don't Mark Up
We don't believe in overpriced jewellery, with crazy mark-up's and neither should you.
✔️ Trust
We understand purchasing online can be worrying. We have customer service you can contact anytime. Your payment is fully safe and secure with VISA / Paypal / Klarna.
✔️  2 Year Warranty Included On This Product
= Happiness guarantee.
 ✔️  Shipped using Royal Mail from the UK.
Fast, secure and fully tracked on its journey to you.
✔️  Female Ran UK Small Business.
Because we are a small business, we truly appreciate your purchase. We take pride in adding extra thoughtful touches to our packaging to bring a smile upon opening.
Dispatch guidelines
For all orders including Zodiac Necklaces 18K Gold Vermeil, we give a 5-15 business day (7-17 days total as a guide) dispatch timeframe as all orders are hand made to order specially upon purchase. Please note that the 'dispatch by' aim is a guide only and items can be shipped before or after this date, as they are lovingly hand-made to order within the UK.