Scorpio Zodiac Necklace (18k Gold Vermeil)
Sale price Price £40.00 Regular price £55.00 Unit price / per
DETERMINED, MAGNETIC, BRAVE & LOYAL.
For our loyal and magnetic Scorpio, our zodiac necklace depicts a scorpion  surrounded by the sparkling night sky.  Produced in three dimensions using unique craftsmanship, with a hammered design. Born between October 23rd - November 21st, this is your new favourite. Don't let her cool aloofness fool you, there is deep passion inside.  Somewhere between your passion and power is a Zodiac necklace that summarizes just that. 


        YOUR THEME SONG
        Bad Guy by Billie Eilish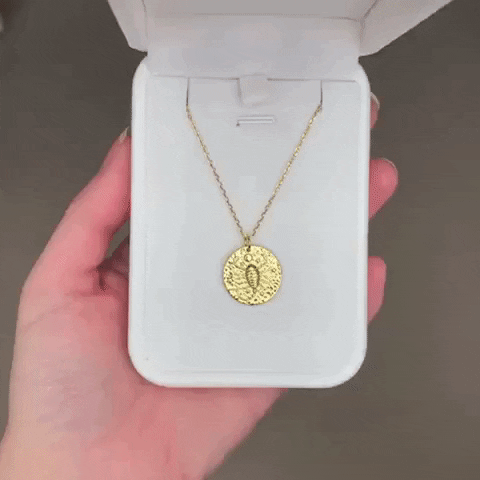 The most beautifully detailed pieces you'll EVER discover. Guaranteed.
 ✔️ Artisan One-of-a-kind Zodiac Necklace 
 ✔️  Handcrafted Exclusively Made To Order For You In The UK
 ✔️  Crafted from 925 Premium Sterling Silver with 18k Gold Plating
 ✔️  Durable Dainty Chain Available In 18" / 22"
Includes Scorpio double sided pendant charm and link chain necklace. Crafted from 925 Sterling Silver with 18k Gold Plating.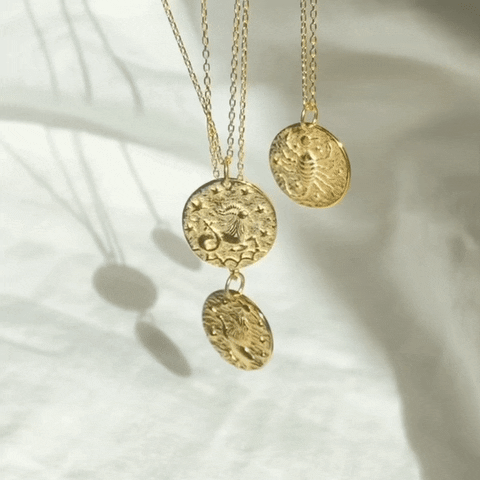 You're the family member everyone depends on for tech support
Checkmate anyone? You're always 10 steps ahead of every move and aren't afraid to go after what you want. 
Your flair for dramatics only adds to your charm
Fierce and strong yet deeply vulnerable, this intense paradox is what makes you beautiful. 
Scorpio is ruled by Pluto, the planet that governs both destruction and transformation. On a good day, Scorpion energy is ambitious and enticing. On a bad day, however, the shadowy side of Scorpio is fueled by a relentless desire for control. Power-hungry Scorpios must remember that if controlled by their egos, they are at risk of poisoning themselves. This sign is at its best when that intrinsic intensity is applied to deep, soulful connections with friends and lovers. When they build trust with others, Scorpios demonstrate unparalleled empathy, depth, and commitment that brighten even the darkest parts of Scorpio's magical psyche.
Why Purchase With Us?
✔️ 
Unique One Of A Kind Artisan Designs
Our Zodiac necklaces are unique, secretive and personal to you. Our designs are handcrafted in the U.K and cannot be found in stores. 
✔️ High Quality Materials, Superior Products
This necklace is handcrafted from premium solid Sterling Silver with a thick layer of 18k Gold Plating.  
✔️  Expensive Looking Yet - 50% Less Cost Than Our Competitors Because We Don't Mark Up
We don't believe in overpriced jewellery, with crazy mark-up's and neither should you.
✔️ Trust
We understand purchasing online can be worrying. We have customer service you can contact anytime. Your payment is fully safe and secure with VISA / Paypal / Klarna.
✔️  2 Year Warranty Included On This Product
= Happiness guarantee.
 ✔️  Shipped using Royal Mail from the UK.
Fast, secure and fully tracked on its journey to you.
✔️  Female Ran UK Small Business.
Because we are a small business, we truly appreciate your purchase. We take pride in adding extra thoughtful touches to our packaging to bring a smile upon opening.
Dispatch guidelines
For all orders including Zodiac Necklaces 18K Gold Vermeil, we give a 5-15 business day (7-17 days total as a guide) dispatch timeframe as all zodiac orders are hand made to order specially upon purchase. Please note that the 'dispatch by' aim is a guide only and items can be shipped before or after this date, as they are lovingly hand-made to order within the UK.