Sagittarius Zodiac Necklace (18k Gold Vermeil)
Sale price Price £40.00 Regular price £55.00 Unit price / per
OPEN, OPTIMISTIC, ADVENTUROUS WITH AN INFECTIOUS ZEST FOR LIFE.

For our adventurous and free-spirited Sagittarius, our zodiac necklace depicts a Greek mythological Chiron with a bow and arrow shooting towards the infinite sky, surrounded with stars.
Produced in three dimensions using unique craftsmanship, with a hammered design. Born November 22nd - December 21st, your new favourite.  While you launch into spiritual adventures like a blazing arrow, consider a little gold action on your neck, for the road. 

        YOUR THEME SONG
       Confident by Demi Lovato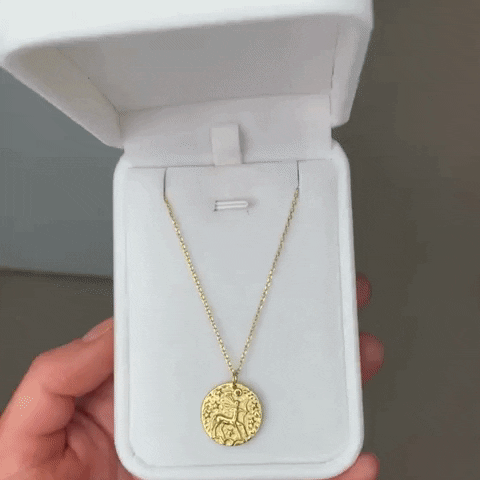 The most beautifully detailed pieces you'll EVER discover. Guaranteed.
 ✔️ Artisan One-of-a-kind Zodiac Necklace 
 ✔️  Handcrafted Exclusively Made To Order For You In The UK
 ✔️  Crafted from 925 Premium Sterling Silver with 18k Gold Plating
 ✔️  Durable Dainty Chain Available In 18" / 22"
Includes Sagittarius double sided pendant charm and link chain necklace. Crafted from 925 Sterling Silver with 18k Gold Plating.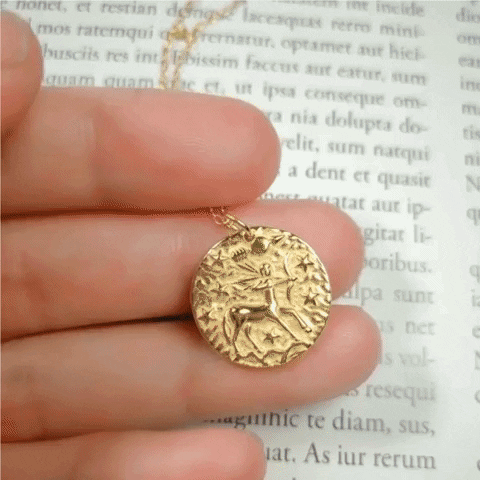 Always hoping for your own rom-com "meet cute"
You're always the life of the party
Chill? what is that?
A dreamer unlike any other, your wild romanticism and love for the world inspires all. Know that with your fierce soul and determined mind the possibilities are endless. 
Dispatch guidelines

For all orders including Zodiac Necklaces 18K Gold Vermeil, we give a 5-15 business day (7-17 days total as a guide) dispatch timeframe as all zodiac orders are hand made to order specially upon purchase. Please note that the 'dispatch by' aim is a guide only and items can be shipped before or after this date, as they are lovingly hand-made to order within the UK. 
Why Purchase With Us?
✔️ 
Unique One Of A Kind Artisan Designs
Our Zodiac necklaces are unique, secretive and personal to you. Our designs are handcrafted in the U.K and cannot be found in stores. 
✔️ High Quality Materials, Superior Products
This necklace is handcrafted from premium solid Sterling Silver with a thick layer of 18k Gold Plating.  
✔️  Expensive Looking Yet - 50% Less Cost Than Our Competitors Because We Don't Mark Up
We don't believe in overpriced jewellery, with crazy mark-up's and neither should you.
✔️ Trust
We understand purchasing online can be worrying. We have customer service you can contact anytime. Your payment is fully safe and secure with VISA / Paypal / Klarna.
✔️  2 Year Warranty Included On This Product
= Happiness guarantee.
 ✔️  Shipped using Royal Mail from the UK.
Fast, secure and fully tracked on its journey to you.
✔️  Female Ran UK Small Business.
Because we are a small business, we truly appreciate your purchase. We take pride in adding extra thoughtful touches to our packaging to bring a smile upon opening.
 SIZING GUIDE